Preparation time - 15 minutes
Cooking time - 10 minutes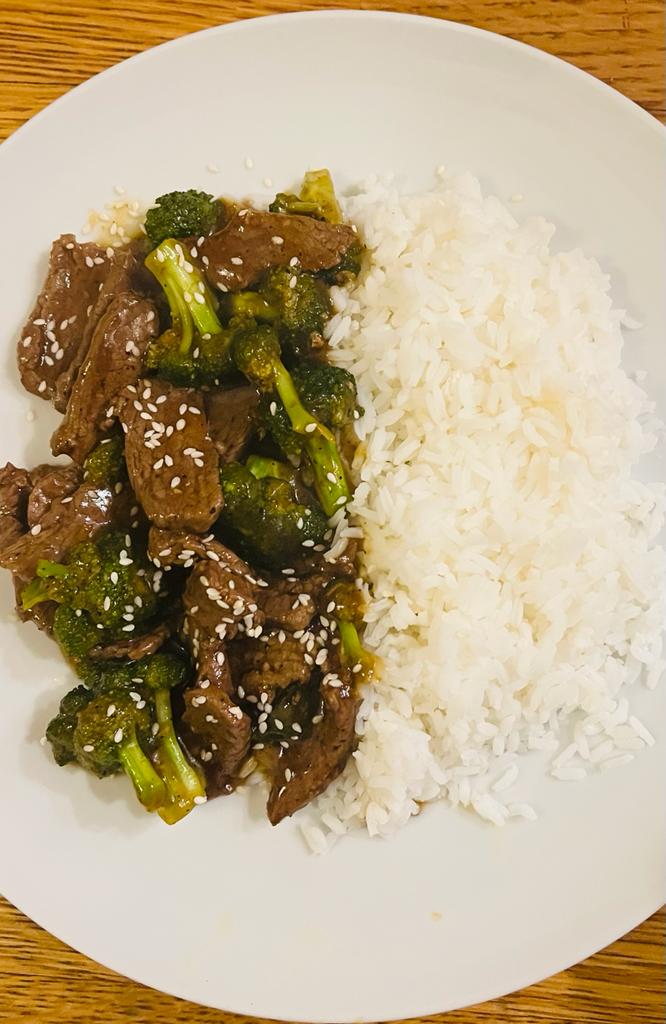 Ingredients:
Beef flank - 1 pound
Corn starch - 1 Tbsp
Olive oil - 1 Tbsp
Broccoli - 0.5 pounds
Soy sauce - 6 Tbsp
Brown sugar - 2 Tbsp
Ginger - grated - 1.5 tsp
Garlic cloves - 4 grated
Sesame seeds - to garnish
Hot water - 1/2 cup
Sesame oil - 2 Tbsp
Black pepper powder - 1/2 tbsp
How to:
Cut the beef into thin slices
Cut the broccoli into small florets.
In a bowl, add 1/2 cup hot water, the soy sauce, the sesame oil, the ginger and garlic, corn starch and black pepper powder and brown sugar and mix until the sugar is dissolved.
Add 1 Tbsp of olive oil to a wok on medium heat and saute the broccoli for 4-5 minutes until they're crispy.
Remove the broccoli from the wok, add another Tbsp of oil and on high heat add the beaf in one layer. Cook for 2 minutes and then flip to the other side, cook for 1 minute.
Now add the sauce and let it simmer for 2 minutes. Add the broccoli and stir for 30 seconds. Add water to adjust sauce consistency to your preference.
Serve alongside steamed rice.